MICHAEL MONROE Comes To His Senses
21.03.2011 | Source: bravewords.com
Special report by Cory Lambert
Legendary
HANOI
ROCKS frontman MICHAEL MONROE releases his new album, Sensory Overdrive, this month throughout most of the world, with the North American date set for May 17th. Monroe's recording (and touring) line-up features WILDHEARTS mainman Ginger on guitar, ex-Hanoi member Sami Yaffa on bass, Steve Conte of NEW YORK DOLLS/COMPANY OF WOLVES fame on guitar, and Karl 'Rockfist' Rosqvist on drums (a Swedish/Finnish drummer who has played with both CHELSEA SMILES and DANZIG). BraveWords.com caught up with Monroe recently as he spilled all his senses…
BraveWords.com: Hanoi Rocks has been laid to rest and it goes without saying that the band has been extremely influential. How would you like Hanoi Rocks to be remembered?
Monroe: "As a band that did not compromise their integrity, just like me. A band that did not sell out and did what they did on their own terms and maintained their integrity. That's what I am proud of with Hanoi."
BraveWords.com: You were once asked in an interview, if you could be the singer in any band, who would it be and you responded Hanoi Rocks. Do you still feel the same way?
Monroe: "I would pick my own band now. I love this band. It's great."
BraveWords.com: If you were asked to reunite the original Hanoi Rocks, for one night, with original drummer Gyp Casino, Would you do it?
Monroe: "I don't think so. It wouldn't be worth it. Would ruin a good memory. I think it would kind of cheapen the whole thing. Like I have said Hanoi Rocks really became, not to say that Gyp wasn't important, but when Razzle joined the band, it really became the band, the spirit in the band just became something else. That's why I always felt that Razzle really made the band, the band! Hanoi Rocks to me was always Razzle, Sam Yaffa, Nasty Suicide, Andy McCoy and me. That's why I would feel funny doing it with Gyp. The band really got famous with Razzle in it. The chemistry with Razzle is what made the band."
BraveWords.com: Will there be any output from Hanoi Rocks going forward? AC/DC did Family Jewels a few years back. Do you think Hanoi Rocks will do something like that?
Monroe: "Not as far as I know."
BraveWords.com: So we shouldn't hold our breath?
Monroe: "No I wouldn't hold my breath if I were you because there are no plans for anything like that. I am not saying there will never be anything like that but as of right now, there are no plans for anything like that."
BraveWords.com: My favorite quote, when it comes to Hanoi Rocks, was actually made by Bruce Dickinson of IRON MAIDEN, who said that out of all the bands that got lumped into this hair metal genre, which he said he didn't feel you belonged, but he said that Hanoi Rocks stood out because you had "equal style and substance."
Monroe: "I like that. Very well said. Bruce is a sweetheart. Such a sweet guy. Smart as hell and that was really well said."
BraveWords.com: You recorded the new album Sensory Overdrive in LA last fall with the legendary Jack Douglas. What was one of the highlights of that experience?
Monroe: "There were quite a few highlights working with Jack. He has great stories about AEROSMITH and JOHN LENNON, stuff like that of course. He's a fun guy. Working with him as a producer was really cool too. He has a lot of good arrangement ideas for the songs for example. Actually I started to recognize a certain pattern in his work when we were re-arranging the Lemmy song 'Debauchery as a Fine Art'. The song was originally called 'Motörheaded For A Fall' on the live album, Another Night In The Sun. Lemmy and I re-wrote the lyrics for the chorus and then I decided to call it 'Debauchery as a Fine Art' as it's a line in the lyrics. The third verse is different on the new studio version due to Jack's arrangement idea which is kinda similar to the Aerosmith song 'No More, No More' from Toys In The Attic as far as the arrangement goes. So I asked Jack if it he had something to do with the arrangement of 'No More, No More' - the way the third verse kinda holds there and builds up in the same way as in 'Debauchery As A Fine Art'. Jack said yeah that was his idea. I figured as much.It was a cool and a pleasant experience working with Jack. We lived in a rented house with Jack and the band except for Karl Rockfist. The only thing about LA is that I don't drive and I don't really like sitting in cars for too long. We were actually depending on Ginger as the chauffeur, which he kind of got fed up with towards the end. Karl could have been the chauffeur as he has a drivers license but he stayed in his own house so Ginger was driving us to the studio and back every day."
BraveWords.com: When I caught the show in
New York
last year, was very impressed with Karl Rockfist the drummer. Amazing. Brought so much life to the older songs.
Monroe: "I agree -absolutely!"
BraveWords.com: Nice guy too. Talked to him briefly outside the Highline Ballroom.
Monroe: "He certainly is. Anyway yeah, working with Jack in LA at the Swinghouse Studios was fun but a lot of hard work too. We did one week of pre-production and two weeks of recording. I get a little neurotic when I do my vocals so....I wouldn't be surprised if some people, like Jack especially at times would wonder if I was either on drugs or insane or something as he doesn't know me that well. I get almost neurotic you know....until the vocals are done. Then when we get close to getting the vocals done, I start to relax. It's always intense as you know you are going to live with it for the rest of your life, you know...."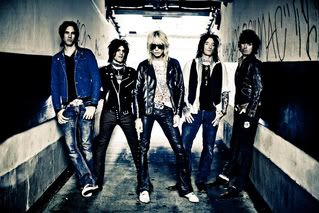 BraveWords.com: Of course.
Monroe: "At the end of the day, it was a good session and a really good experience working with Jack Douglas as he was really great. The mixing we did in Finland because due to our schedule I couldn't be in the States for the mixing process. So we ended up doing the mixing and mastering with Petri Majuri at the Seawolf Studios in Helsinki last December. Petri also did the last three Hanoi Rocks albums. He is a great mixer and engineer and I have a great chemistry with him. He's also very quick and a lot of fun to work with. We started mixing in early December and finished it right after New Years. All in all it was a good experience and you can hear it on the record. It sounds like a band and you can usually tell from listening to an album if everyone was having a good time making it."
BraveWords.com: So how do you think this album is different from your previous solo albums?
Monroe: "Most of the songs we sat down in a room and worked on them....all of us, together. So that's one big difference. It really is a band. More like a band than what I've had in the past."
BraveWords.com: What's your favorite track on the new album and why?
Monroe: ""Trick of the wrist", the first song, I must say...well, we started our set with it on the MOTÖRHEAD UK tour last November. It's a great opener. It's autobiographical in a way you know....having had a nasty habit and shaking it off."I used to spend all my time getting wasted, now I'm eternally fascinated...now I get all my energy for free." It's about being happy to be alive with natural energy. It's my secret, my trick of the wrist. Which is a magician's expression."
BraveWords.com: There's a QUEEN song called 'Flick Of The Wrist'….and that's the first thing I thought of when I saw the title....
Monroe: "Then there's also Flick Of The Switch by AC/DC. We were coming up with the title for the song as Ginger and I were sitting having breakfast at the hotel. We were aware that the Queen title and AC/DC title had been used but then Ginger suggested 'Trick Of The Wrist'…I thought, that sounds cool. He Google'd it and found out that it's a magician's expression and no one has used it before. I said Great! That's it."
BraveWords.com: Are there going to be any videos for the album?
Monroe: "We are doing one for ''78' and 'Trick Of The Wrist' as well."
BraveWords.com: Excellent. I saw bootleg footage of that song from the Motörhead tour. Very heavy tune. Was very excited and thought, 'Wow, this is gonna be great!'?
Monroe: "Cool. Yeah. Can't wait for everyone to hear it. It kicks off the album, totally in your face. We're also planning to release 'Superpowered Superfly' as a single and a video as well."
BraveWords.com: Are there are any tracks that were recorded that did not make it on the album?
Monroe: "Well yeah, we did 15 tracks all together. There's two bonus tracks for Japan. One's called 'Right To Be Wrong' which I wrote with Sami. The other bonus track for Japan was 'Sleeping With My TV On'. It's a rocker I wrote myself some time ago. Then there's two other songs that were left to be B-sides for the singles for ''78' and 'Superpowered Superfly'. One of them is 'Another Night In The Sun', which was not included on the live album, even though it was the title for it. The other one is 'You're Next', which was on the live album but this is a new, different killer studio version of it. They're also going to be bonus tracks on the deluxe edition, which has Ginger's Road Movie DVD on it too."
BraveWords.com: That's multiple editions.
Monroe: "And a vinyl pressing also."
BraveWords.com: And I think that goes along with the spirit of the album considering vinyl was the medium of choice back in, as the song goes, ''78'.
Monroe: "Yeah that too. That's a great point as well. ''78' is not so much about nostalgia but more about the spirit from those days that we still got. I'm loving it that there's gonna be a vinyl pressing. I actually got the vinyl test pressing and listened to it today. It was great putting a vinyl record on the turntable, those were the days." ? ?BraveWords.com: I read one review that the album was 33 minutes long. Was that intentional to keep the album at that length?
Monroe: "Yeah, we didn't want to make the album too long. We wanted to make an album that after you heard it, you wanted to hear it again."
BraveWords.com: So all killers, no fillers?
Monroe: "Yeah yeah! That's the idea. The Michael Monroe thang. My motto. We don't want to bore people. We don't want to bore ourselves either. We didn't plan it, but as it turned out, most of the songs are under 3 minutes. We were actually surprised because they didn't feel that short. But that's the sign of a great song. I loved it. Brilliant. If you can have a song under 2 and a half or 3 minutes, that's a perfect
rock and roll
song. I think the LAMF album by JOHNNY THUNDERS AND THE HEARTBREAKERS was 33 minutes too. I like that. It's a great length for an album."
BraveWords.com: I think it's better to have an album that's consistently good that to have a longer album that you have to jump around the tracks that really don't hold up to the rest of the material. I think 33 minutes if it's good material, actually works better.
Monroe: "Yeah, yeah...there's no rule that says that you have to have a two hour album, especially a rock and roll album like this one. All killers, no fillers you won't get bored and fall asleep. Come on - let's get through it you know? Short and sweet. In the old days, I loved the ten song album format, so that's what we were thinking."
BraveWords.com: So it seems another throwback to that time frame of the late 70's when albums were about 35-40 minutes. Especially if you consider the lyrics to ''78'.
Monroe: "Yeah, that's another thing."
BraveWords.com: Who came up with the idea for the cover which is very cool?
Monroe: "Thanks! Glad you like it. It was this guy named Kii Arens from California. He had this idea, you know the eye and the fingers and I thought if it was my eye and my fingers with my nail polish, that would be great. So we took a photo with me holding my eye wide open like that for Kii to work on and it turned out perfect. It's very Clockwork Orange…'forced to watch the world in ruins and decay and I could still not shut them no matter how hard I tried'… (laughs). And now, every day when I do my makeup I think of the album cover. Like when I put on eyeliner - there's the eye...except without the zipper! "
BraveWords.com: How did you come to work with LUCINDA WILLIAMS? Knowing a little about her, she's almost a female version of you with regards to the being a leader, not a follower. She's always played by her own rules also.
Monroe: "That's cool! She's like a rarity. A rebel and well respected - especially by musicians. She was already familiar with Sami and Steve Conte, as she had been to a few NEW YORK DOLLS concerts. She showed up at our Viper Room show in March of last year in Hollywood. She came backstage after the show and was raving about how great it was. She loved the band, my performance, everything. She said it was brilliant, fantastic. So then when that song "Gone Baby Gone" ended up on the album and it became a ROLLING STONES, country kind of song, we just thought it would be so cool and a great honor to have Lucinda Williams sing on it. Originally we weren't sure if the song was going to fit the album, but as it turned out it's a perfect change of pace for the record and it still sounds rocking. So Lucinda came to the studio and sang on it beautifully. She has an amazing voice."
BraveWords.com: Yes she does. Is it a duet? Or was it background vocals?
Monroe: "She's doing a harmony on the chorus which is as loud as I am. I'd like to think of it as a duet. She has such an amazing tone that goes really well with my voice. It just sounds really great."
BraveWords.com: Why was there nothing from the album Peace Of Mind, which is a great record - it in the live set last year and will there be this year?
Monroe: "Thanks. We do "Machine Gun Etiquette" from that album. We tried out 'Relationshipwrecked' but 'Hammersmith Palais' is similar in feel so we do that one. We are going to add more songs from the new album so it's not likely that we will play something else from Peace of Mind."
BraveWords.com: What about 'No Means No' from Life Get's You Dirty? It's a great heavy song with a great riff and would love to hear the new band play that one.
Monroe: "Wow, never even suggested that one. I'll put that one under my hat."
BraveWords.com: Your solo band is being referred to as a supergroup, considering all the talent. How does this lineup compare to your previous lineups?
Monroe: "Well, it's a group with a huge amount of talent, and it's more of a band than I've ever had in my solo career. That's a big difference."
BraveWords.com: I was mentioning the new band to a friend and he said how much he loved the new lineup and said that one of his favorite lineups was the Japan tour of '92 with Thommy Price and Phil Grande. I think it was pro-shot and aired on Japanese TV.
Monroe: "It was a brilliant band. Yeah it was filmed and I have a copy. Very good show. That was the band that should have been on tour for the Not Fakin' It album. I guess I couldn't afford to hire those guys for a longer tour and my record label wanted younger looking kids, with the hair metal thing and stuff happening back then. I would have loved to have had the guys who played on the record touring with me. That's why I was happy to be able to bring these guys to Japan and to do one tour with my dream band at the time."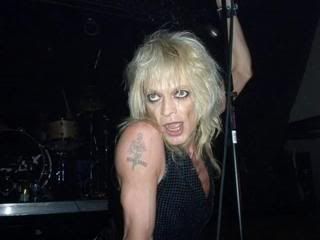 BraveWords.com: Just glad it was filmed as it's one hell of a show.
Monroe: "I'm glad too and am glad you agree."
BraveWords.com: Do you think this lineup will be more of a permanent arrangement?
Monroe: "Certainly hope so but there's no way of knowing. You never know what's going to happen. As long as it's fun, it works and serves a purpose and we're moving forward - I don't see why not."
BraveWords.com: So Sam and Steve are done with the New York Dolls? I think they have new members.
Monroe: "Yeah, I think they've been replaced."
BraveWords.com: What you like to accomplish this year with the new band and new album?
Monroe: "I'd like to be able to spread the word, tour the record as much as possible, spread the awareness of this record and expand the good word of authentic, joyful, good rock and roll. Spread some good vibes to people."
BraveWords.com: There are a handful of big music festivals in North America such as Rocklahoma, M3 and Heavy Metal in Montreal. Would you consider playing those??Monroe: "If it was possible to arrange I would be there in a second. Would love to play anywhere, especially in Canada where I have not played in far too long."
BraveWords.com: Are there plans right now to tour Canada and the US?
Monroe: "There are plans but we are still looking for a permanent booking agent over there. But I'm really looking forward to touring in the States and Canada more and more. I think is imperative for this band to be working out there."
BraveWords.com: I just read the comments online and the number one question is when are you going to play in my country, my city, my state, my province?
Monroe: "Yeah and I have not had the opportunity for so long. We started in the States with this band, our first tour was in March last year on the west coast and that's the idea. We want to be in the States and that's what we are aiming for. A-S-A-F-P. "
BraveWords.com: I think Conny Bloom is an amazing musician. This was confirmed when I saw the MaxxStage show from Helsinki. Was he ever in consideration for this band?
Monroe: "Well he had the ELECTRIC BOYS after we finished with Hanoi Rocks, but I was thinking of him if I was going to make a solo album. But then me and Sami started putting this band together and Conny also had his own project so it was not possible anymore. Style-wise I am glad I have the guys I do now. But Conny is still a good friend and mind you, I did play some harmonica on the new Electric Boys record on a song which is going to be a bonus track on the Japanese version of the album."
BraveWords.com: I thought he was a great fit in Hanoi Rocks.
Monroe: "Yeah I did too. He added a spark to the band and the quality of the band improved remarkably with him and A.C. Christell in it."
BraveWords.com: The SECRET CHIEFS, your first band after Hanoi Rocks split in 1985. Was anything recorded? And will it ever be released.
Monroe: "I doubt anything would be released. Some demos and rehearsals were recorded and some gigs were documented. One show was filmed and there was over 25000 people there in Helsinki. There are some bad quality bootlegs of that show and I have some demos on tape but I don't think anything's ever going to be released. Nothing was ever recorded for an album."
Word association:
Kory Clarke: "One of the greatest singers and frontmen ever."
Slash: "One of the greatest guitar players ever. "
Razzle: "Dear friend."
Ginger: "Dear friend."
Johnny Thunders: "Dear friend."
Bob Ezrin: "Great guy and producer."
Sebastian Bach: "Another great guy and singer."
Alice Cooper: "Brilliant and an inspiration."
Ronnie James Dio: "Great singer, rest in peace."
Gyp Casino: "Swedish."
Favorite? Song: 'Trick Of The Wrist'
Album: Sensory Overdrive.
Favorite song to play live: 'Trick of the Wrist'.
Favorite concert memory: "My show at the Ruisrock Festival last year. Of others? First show that comes to mind is the Rolling Stones Steel Wheels tour at Shea Stadium. Brilliant show."
Artist: "Can't pick just one but LITTLE RICHARD or ALICE COOPER."
First album you bought: "BLACK SABBATH's Paranoid."
First song you wrote: "I had a riff that was I recorded on tape, but it was under a different name and ended up being 'Back In Your Face' which was on Another Hostile Takeover. "
BraveWords.com: If you could work with any performer dead or alive, who would it be?
Monroe: "Little Richard or Keith Richards. That would be a great feather in my cap. But I have already worked with so many great people. Stiv Bators, Johnny Thunders, Lemmy... really amazing people. Singing on stage with Motörhead was something else I gotta tell ya. And that was only just last November."
BraveWords.com: My first concert was actually Motörhead. 23 years ago.
Monroe: "Wow. What Motörhead record was that? "
BraveWords.com: Rock And Roll in 1988. They opened for Alice Cooper actually.
Monroe: "That's a great tour. Wish I could get on a tour with those guys. We've been talking about it for ages now. Alice himself even said it about a year ago in LA when we ran into each other at the John Varvatos party. He told Shep Gordon (Alice's Manager) "from now on I only want to tour with Michael Monroe" (laughs). So he definitely wants to do it and we really want to do it too! There has not been an opportunity for it yet. Surely where there's a will there's a way."
BraveWords.com: That would be a great tour, Alice Cooper, Motörhead and Michael Monroe.
For more info visit
Michaelmonroe.com
.
Source: bravewords.com
Latest Michael Monroe news
Most popular from Michael Monroe
Links
Tour schedules
22.06.13 / Mikkeli, Visulahden Juhannus / Finland
28.06.13 / Riihimaki, Riihimakirock / Finland
05.07.13 / Ruissalo, Ruisrock / Finland
06.07.13 / Kokkola, Manifest / Finland
10.07.13 / Hyvinkää, Torin Rytmit / Finland
---