NIGHTWISH - Imaginarium Album Video Teaser Online
10.08.2011 | Source: bravewords.com
NIGHTWISH
are preparing to release their next album, Imaginarium, early in 2012, and they've posted a short video teaser to get fans excited. Check it out below:

Nightwish recently issued the following Imaginarium update:

"Dear friends of Imaginarium,

Secretly we all hoped that at some point we would be able to say this aloud: The Dream is about to become reality! It's been a hard battle beyond all measures, as it is in all projects this size, but finally creativity and heart took over the evil called Money.

Imaginarium will be shot in September in a location we still need to keep as a secret but it will be quite far from our homely Finland and Sweden
.

The casting of the characters is now done. The cast is chosen not only because of their talent but because of the personal passion of everyone involved. The actors and their representatives have been overly enthusiastic about the auditions after reading the script. We believe many of you will be very surprised once you see the final result and the story behind it. This long journey began more than 3 years ago, and neither Nightwish or Stobe had a clear idea of where the path would lead. The script is now fantastic. It's about Life, and the little spark of light you see during the darkest and most hopeless times. The same spark we've had to find over and over again during the process of making this film happen.

The production crew is a group of professionals with one aim only: To realize the original vision of Imaginarium that Tuomas and Stobe had. All the pieces of the puzzle are now on the tables, and the building of the props, costume design, schedule planning, special fx production, dialogue & band performance rehearsals, etc. has begun.

It's easy to shed some tears while writing this, since we now know the story will have an ending after all.

"She spins around elegantly, softly. The chords are now found and something that was broken never needed to be fixed."

This season's entrance song for the Kiteen Pallo sports team (Pesäpallo or Finnish baseball) is based on the main riff and chorus of track 11 on Nightwish's upcoming album
Imaginarium remixed by DJ Orkidea. The song snippet can be heard on YouTube:

Nightwish recently launched the first competition on their Facebook page facebook page. Click the link and don't miss your chance to win VIP tickets to the very first show of the Imaginarium World Tour at the Gibson Ampitheatre in Universal City, CA on January 21st, 2012.

According to Variety, Nightwish's musical Imaginarium, directed by Stobe Harju, about an old man on his deathbed who glimpses a childhood dream in which he refuses to grow old, and fights aging with his imagination, has received $575,000 toward its $3.7 million budget in the latest round of Finnish Film Foundation grants.

Nightwish's Imaginarium album is currently scheduled to be released early in 2012, followed by the movie after an indefinite time).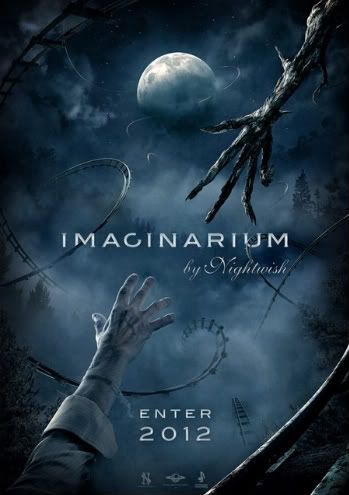 Mainman Tuomas Holopainen issued the following update recently from Helsinki's Finnvox Studios:

"This time, the landscape consists of 13 songs totalling 75 minutes. I think I'll probably be able to savour the end result only after a couple of months of mixing detox, but the encouraging comments by those near to me assure that it is a decent album. One person who heard Imaginarium called it 'the greatest adventure he ever heard with his two ears'."
Source: bravewords.com
Latest Nightwish news
Most popular from Nightwish
Links
---