NIGHTWISH To Release 'Storytime' Single In November, Artwork Revealed; Imaginaerum Album Tracklist, Audio Samples Coming Next Week
02.09.2011 | Source: bravewords.com

Finnish symphonic metallers NIGHTWISH
will release their new single, 'Storytime', on Friday, November 11th. The cover artwork can be seen below: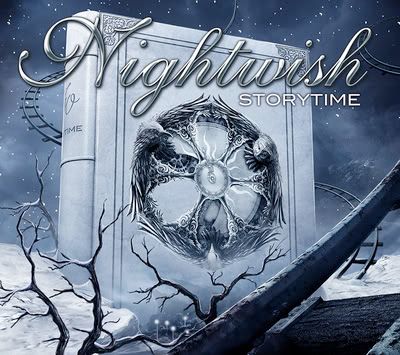 A message from the band states: "The whole album tracklist with teasers of each song and the album release date will follow in a week. Stay tuned!"

Nightwish recently issued the following statement in regards to the band's upcoming album
/ movie project:

"In order to avoid mix-ups with various things named "Imaginarium", the title of the upcoming album and the movie will be changed to Imaginaerum."

Check out the new promotional image, which reflects the title change, below: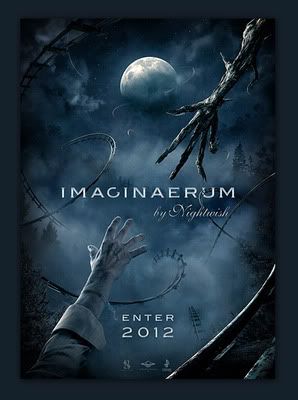 Nightwish recently signed a new record deal with Germany-based label Nuclear Blast for the release of their new album, Imaginaerum. Band leader Tuomas Holopainen comments:

"We are very happy to continue working with the Nuclear Bast family. Our collaboration started on a friendship basis and continues to do so. I was utterly happy and relieved to see they truly understood what Imaginaerum is all about, and we seem to share similar profound enthusiasm towards it. I feel privileged working with such people who, despite the infinite maze of business they must handle properly, still have a huge heart for music itself. "

Nuclear Blast label manager and head of A&R, Andy Siry, adds:

"We are very happy that Nightwish and Nuclear Blast Records can continue as a team. Nightwish became the biggest success of our label and everyone in the band, their management and crew also became trustful and close friends. For us, it is a pleasure to work with such highly gifted musicians and a genius like Tuomas Holopainen , as a songwriter and composer. We also thank KingFoo Management for their believe and the great relationship between all of us. We are looking forward to the next releases with the band, starting with the upcoming masterpiece, Imaginaerum, which is another big step for this visionary band, which is simply outstanding and brilliant."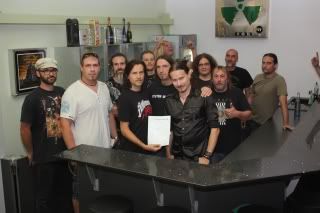 (From left to right): Michael Langbein (Nuclear Blast), Toni Peiju (KingFoo), Markus Klumpp (Nuclear Blast), Yorck Eysel (Nuclear Blast), Patrick Walch (Nuclear Blast), Andy Siry (Nuclear Blast), Ewo Pohjola (KingFoo), Tuomas Holopainen (Nightwish), Markus Wosgien (Nuclear Blast), Uwe Dannenmann (Nuclear Blast), Holger Tiefenbach (Nuclear Blast), Tobias Pfletschinger (Nuclear Blast)
Source: bravewords.com
Latest Nightwish news
Most popular from Nightwish
Links
---