NIGHTWISH - 'Storytime' Pre-Order Available
05.09.2011 | Source: bravewords.com
Finnish symphonic metallers
NIGHTWISH
will release their new single, 'Storytime', on Friday, November 11th. The single is available as a pre-sale as CD (digipak) and 10'' MLP (gatefold) versions. The band also have a new selection of Nightwish shirts available. Visit the
Nightwish Shop
for more details.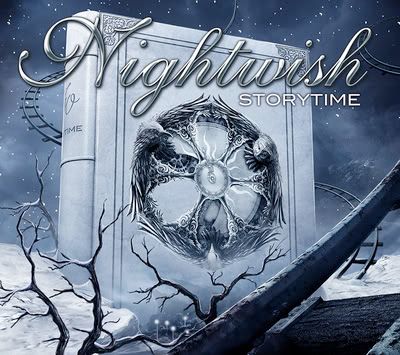 Nightwish recently issued the following statement in regards to the band's
upcoming album
/movie project:
"In order to avoid mix-ups with various things named Imaginarium, the title of the upcoming album and the movie will be changed to Imaginaerum."
Check out the new promotional image, which reflects the title change, below: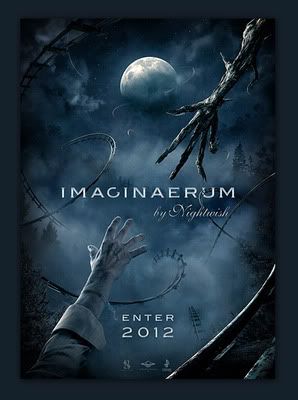 Nightwish recently signed a new record deal with Germany-based label Nuclear Blast for the release of their new album, Imaginaerum. Band leader Tuomas Holopainen comments:
"We are very happy to continue working with the Nuclear Bast family. Our collaboration started on a friendship basis and continues to do so. I was utterly happy and relieved to see they truly understood what Imaginaerum is all about, and we seem to share similar profound enthusiasm towards it. I feel privileged working with such people who, despite the infinite maze of business they must handle properly, still have a huge heart for music itself. "
Nightwish recently posted studio footage from their Imaginaerum sessions at Angel Studios in Islington,
London
earlier this year (February 14th-20th) on YouTube below. According to a band diary update at the time:
"The recordings include three three-hour sessions with a 53-piece orchestra, most of the players being familiar faces from the Once and Dark Passion Play - sessions. Pip (Williams, the orchestral arranger) joined us at the hotel and we were all excited and ready for a week of long days and for witnessing some superb musicianship. The musicianship of these people never ceases to amaze me. They`ve never heard the songs before, they haven`t had any rehearsals, and still they nail all the songs, even those in the hardest imaginable key, after just one or two run-throughs."
Working titles include: 'Goat`s Liver', 'The Birdie Song', 'Teriyaki' and 'Haunted Mansion Ride'.
Source: bravewords.com
Latest Nightwish news
Most popular from Nightwish
Links
---