NIGHTWISH Mainman Tuomas Holopainen On Imaginaerum - "This Is A Thematic Album, About The Celebration Of Life, The Privilege Of Life And All The Wonderful, Beautiful Things We Have In Here"
26.10.2011 | Source: bravewords.com
Radio Metal has issued an interview with NIGHTWISH mainman Tuomas Holopainen, in which he discusses the band's forthcoming Imaginaerum release. An excerpt follows:
Q: The album sounds much more like a soundtrack than a collection of songs. Ultimately, that's what you always wanted to do in your career, right?
A: "Soundtracks have been a driving force in my songwriting for years and years. I guess on Imaginaerum, it's taken to
the maximum. The most concrete reason for that is that we're actually doing a movie. All the songs on the album are made for certain scenes in the movie. Before the first note was written, I had the idea of what the story was about: the jazz club, the ghosts, the Arabian death dance… All of those songs were made for these stories. That's the major reason why
the album ended up being so soundtrackish."
Q: Why did you not do it earlier? Did you really need a movie to write movie music, if you see what I mean? Since it's something you love so much, did you really need the images to go along with the music?
A: "It's always been about creating the kind of music that the listener would see as much as hear. But before this album, I guess we were always happy with the audio aid. We didn't need the visuals. But after Dark Passion Play, I just figured that this was so insanely big and diverse that we could no longer take it to the next level with just the music. That's when I felt it strongly for the first time. Even after the Once album, I thought we could make it even bigger and better, but not after
Dark Passion Play. Then it occurred to me, if we can't do it with the music alone, let's add another dimension, a visual dimension, to it."
Q: This new album is a firework of different influences and styles, and both Marco and Anette do things that we've never heard from them before. Like you said, there's this very jazzy song, with a "Twin Peaks" vibe to it. Was this melting-pot of different things sparked by this huge project? Was the movie the thing you really needed to start afresh and renew yourself musically?
A: "I'm not sure we needed the movie. It was just a whole new idea to create an album." (long hesitation)
Q: In other words, do you think you would have written a song like this very jazzy track without the movie, for example?
A: "To be honest, I don't know. That particular song was based on a certain scene that had to be included in the movie. That's why it's there; once you see the movie, you'll understand why this "Twin Peaks" song is in there. But to be honest, I don't know how to answer the question… But you were also asking about the versatility and the different elements. It's more varied than ever before. I think it has to do with the fact that this is a thematic album, about the celebration of life, the privilege of life and all the wonderful, beautiful things we have in here. It's about the versatility of everything we experience. That's why we wanted to include all the elements that we could possibly put into 75 minutes of music, from the dark, jazzy stuff to the childhood nightmares of 'Scare Tale', to the Arabic influences, to the Celtic, having-fun
kind of vibe, to the funeral procession of 'Rest Calm'. It's all the aspects of life."
Read the full interview at
this location
.
Nightwish recently updated their live itinerary with new shows confirmed for Finland, Russia and Ukraine.
Nightwish tour dates in support of their upcoming Imaginaerum release are as follows:
January
21 - Gibson Amphitheater - Universal City, CA
23 - 70000 Tons Of Metal Cruise -The Caribbean
March
2 - Areena - Joensuu, Finland
3 - Vuokattihalli - Sotkamo, Finland
4 - Teatria - Oulu, Finland
9 - Paviljonki Areena - Jyväskylä, Finland
10 - Jäähalli - Helsinki, Finland
11 - Hakametsän halli - Tampere, Finland
14 - Lensoveta Culture Hall - St. Petersburg, Russia
15 - Crocus City Hall - Moscow, Russia
17 - MVC - Kiev, Ukraine
April
10 - Lisebergshallen - Göteborg,
Sweden
11 - Falconer Theater - Copenhagen, Denmark
13 - Heineken Music Hall - Amsterdam, Netherlands
14 - ISS Dome - Düsseldorf, Germany
16 - Forest National - Brussels, Belgium
17 - Bercy - Paris, France
18 - Zenith - Nantes, France
20 - Halle Tony Garnier - Lyon, France
21 - Rockhal - Luxembourg, Luxembourg
23 - Jahrhunderthalle - Frankfurt, Germany
24 - Hallenstadion - Zurich, Switzerland
25 - Forum - Milano, Italy
27 - Gasometer - Vienna, Austria
29 - Budapest Arena - Budapest, Hungary
30 - Tesla (T-Mobile Arena) - Prague, Czech Republic
May
1 - Arena - Leipzig, Germany
3 - 02 World - Hamburg, Germany
5 - Arena - Nuremberg, Germany
6 - Schleyerhalle - Stuttgart, Germany
8 - Krizanke - Ljubljana, Slovenia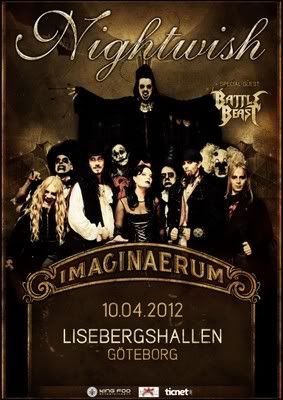 Nuclear Blast Germany have unveiled a number of formats for Nightwish's upcoming album, Imaginaerum, and their 'Storytime' single as detailed below:
Imaginaerum Mail Order Edition: limited and numbered to 1000 copies, the boxset includes the double digipak, the one-track-single 'Rest Calm' in its demo version featuring Marco Hietala on vocals and the exclusive Imaginaerum mirror:
Imaginaerum Two-CD digi pack featuring instrumental version of the album as bonus CD: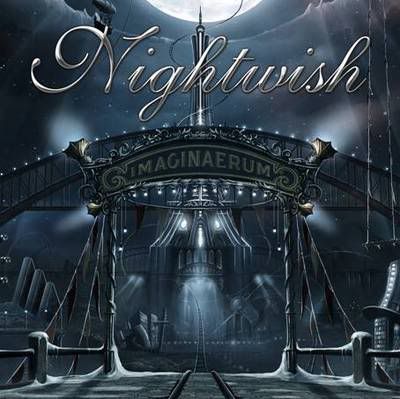 Imaginaerum Marbled Vinyl: Strictly limited to 250 marbled 180g double gatefold LPs incl. a DIN A2 poster: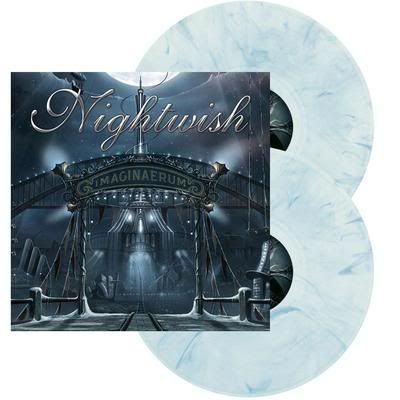 'Storytime' CD Single featuring 'Storytime' (radio edit), 'Storytime' (album version), 'Storytime' (instrumental version):
'Storytime' Single Clear, White and Dark Blue Vinyl: Strictly limited to 250 lush 10" gatefold mini albums. Featuring 'Storytime' (radio edit), 'Storytime' (album version), 'Storytime' (instrumental version):

For more details visit
Nuclearblast.de
.
Nightwish will release Imaginaerum on the following dates:
Finland - November 30th
Europe - December 2nd
Australia - January 6th
North America - January 10th
Japan - January 11th
New Zealand - January 16th
The album is the band's first since 2007's Dark Passion Play, which was then-new singer Anette Olzon's debut.
The band examined its catalog when sitting down to write what would become Imaginaerum. The songs for the album were written between 2008 and 2010, after the Dark Passion Play tour cycle ended. At that point, Nightwish knew they wanted to do something different, new and unique, which is exceptional for a band whose career has been defined by words like different, new and unique!
The band consciously wanted to do something so big, crossover, detailed, innovative and, well, "nuts," that it would leave the band, and hopefully the people experiencing it, completely awestruck. It would be a situation where fans and/or critics would either love it or hate it, but they'd be left awestruck nonetheless. That's when the band realized another dimension, namely video, was necessary for the project. Instead of a concept album, the band set the album to a film.
"The original idea I had was to film 13 short stories related to the songs with a connected storyline, shot by Stobe Harju," keyboardist/songwriter Tuomas Holopainen said. It was Harju's idea to turn the 13 stories and visions into more of a connected cinematic piece – essentially, a film. It would have a clear plot, script, dialogue and real actors in an ambitious effort to create something wholly unique.The film was shot in September of this year.
The movie is based on the album and its 13 tracks, honoring the original ideas, but having evolved radically from the initial plan.
Holopainen said," Still, it was important from the very beginning that the album would work as its own individual piece of art, as well. It is a thematic album about life itself, about imagination, love, goodness and beauty, with a touch of darkness and melancholy, which are strongly included in all of those things mentioned." As if we could expect anything less from Nightwish!
The band will have but a small part in the film. A 2012 premiere date is being eyed. Imaginaerum: an audiovisual testament of what Nightwish have always been about.
The track listing for Imaginaerum is as follows (note that track 12 is broken down into four parts):
'Taikatalvi'
'Storytime'
'Ghost River'
'Slow, Love, Slow'
'I Want My Tears Back'
'Scaretale'
'Arabesque'
'Turn Loose The Mermaids'
'Rest Calm'
'The Crow, The Owl And The Dove'
'Last Ride Of The Day'
'Song Of Myself'
Song 1: 'From A Dusty Bookshelf'
Song 2: 'All That Great Heart Lying Still'
Song 3: 'Piano Black'
Song 4: 'Love'
'Imaginaerum'

Nightwish will release their new single, 'Storytime', on Friday, November 11th. The single is available as a pre-sale as CD (digipak) and 10'' MLP (gatefold) versions.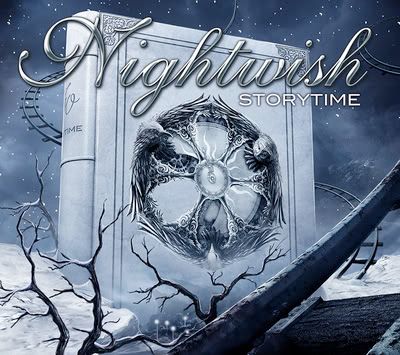 Source: bravewords.com
Latest Nightwish news
Most popular from Nightwish
Links
---