STRATOVARIUS Film Tampere Show For DVD Release; Set-List Revealed
21.11.2011 | Source: bravewords.com
STRATOVARIUS filmed their November 19th concert at Pakkahuone in Tampere, Finland for future DVD release. Says the band: "Tampere mood was great.. the DVD will be available later. Everyone happy!"
The band performed the following setlist :
'Under Flaming Skies'
'I Walk To My Own Song'
'Speed Of Light'
'The Kiss Of Judas'
'Deep Unknown'
'Eagleheart'
'Paradise'
'Visions (Southern Cross)'
'Coming Home'
'Legions'
'Darkest Hours'
Encore
:
'Burn' (DEEP PURPLE cover)
'Behind Blue Eyes' (THE WHO cover)
'I Don't Believe In Love' (QUEENSRŸCHE cover)
'Winter Skies'
'Black Diamond'
Encore 2:
'Father Time'
'Hunting High And Low'
Stratovarius are currently on the Jörg Farewell Tour - the last one to feature longtime drummer Jörg Michael, who is leaving the group for personal reasons.
Stratovarius will perform in Guatemala, at Teatro de Bellas Artes in Guatemala City, on January 31st, 2012. This will now be the final show for drummer Jörg Michael, after 15 years with Stratovarius.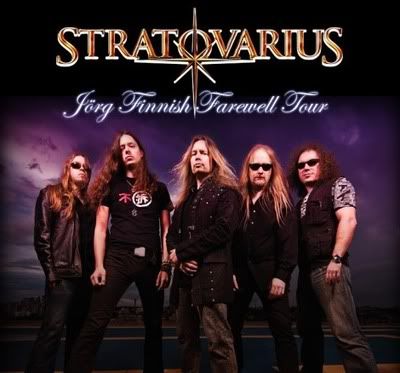 Source: bravewords.com
Latest Stratovarius news
Most popular from Stratovarius
Links
Tour schedules
20.05.13 / Montevideo, La Trastienda / Uruguay
24.05.13 / Santiago, Blondie / Chile
26.05.13 / Bogotá, Teatro Ecci / Colombia
28.05.13 / Mexico City, Circo Volador / Mexico
15.06.13 / Kaarina, Saaristo Open 2013 / Finland
---