NIGHTWISH - Anette Olzon Checks In From Imaginaerum In Helsinki
01.12.2011 | Source: bravewords.com
NIGHTWISH singer Anette Olzon has checked in from band rehearsals in Finland:

"So, I thought its time to write a little thing about our rehearsals over here in Helsinki and what we have been up to the last week.

Last thursday we went to our rehearsal place already in the morning and it was really nice to get in front of the microphone again and hearing what the guys had done the days before. We have some nice things planned and its always interesting to hear if it works out and yeah, it did. Singing the songs from Imaginaerum live for the first time was interesting and it's always this weird thing that songs I thought would be easy to sing live can be a bit tricky, while the ones I thought would be hard went really easy. This is something that happens every time and some songs seem to come alive even more in the rehearsing space.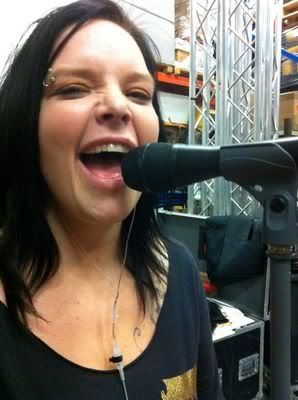 This first day we practised for many hours and it takes some time to get into the songs so the day after we all sounded even better. I felt how we all started to get more and more into every song and leaving that day behind me felt very rewarding and anticipating of the rehearsals yesterday when our dear Troy joined us and made our group complete. For me, personally, Troy gives me calmness and positiveness and everything feels so fun, the music flows and we just had so fun together all day.

Yesterday was the last rehearsing day for this time and even if I long to go home to my dear boys at home, I already long for our rehearsals in january cause I leave Helsinki with a sense of joy and knowledge that next year will be wonderful and fun together with these guys and with the music I love to sing.

Today Imaginaerum was released and its so nice to finally have the album out!

Enjoy December and these last days of 2011 - 2012 is soon here!"

Check out more rehearsal photos at this location.

Nightwish recently released another video teaser trailer for their forthcoming new album, Imaginaerum. Watch the new trailer below:



Nightwish will release Imaginaerum, on the following dates:

Finland - November 30th
Europe - December 2nd
Australia - January 6th
Brazil - January 10th
North America - January 10th
Japan - January 11th
New Zealand - January 16th

The video trailer below shows the various configurations of the new album:



Imaginaerum is the band's first since 2007's Dark Passion Play, which was then-new singer Anette Olzon's debut. The tracklisting for Imaginaerum is as follows (note that track 12 is broken down into four parts):

'Taikatalvi'
'Storytime'
'Ghost River'
'Slow, Love, Slow'
'I Want My Tears Back'
'Scaretale'
'Arabesque'
'Turn Loose The Mermaids'
'Rest Calm'
'The Crow, The Owl And The Dove'
'Last Ride Of The Day'
'Song Of Myself'
Song 1: 'From A Dusty Bookshelf'
Song 2: 'All That Great Heart Lying Still'
Song 3: 'Piano Black'
Song 4: 'Love'
'Imaginaerum'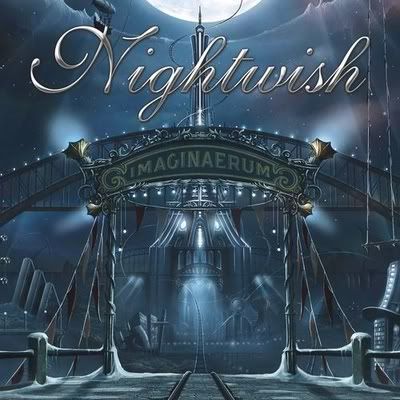 Nightwish recently issued the following warning:

"Here are the official tasters from Imaginaerum! Even Amazon was so enthusiastic about the album, that they had to share these samples without asking us...

If you want to experience the true impact of the album, we recommend that you do something else and not listen to these.

With lots of respect! Nightwish."

Imaginaerum by nightwishband


Nightwish's new single, 'Storytime', was officially released on 11.11.11, and has landed at #1 on the Finnish Singles chart.

A new lyric video, along with the official 'Storytime' clip and a Making Of 'Storytime' video trailer can be viewed below:






Source: bravewords.com
Latest Nightwish news
Most popular from Nightwish
Links
---