NIGHTWISH Founder Tuomas Holopainen Giving Away Signed Platinum Dark Passion Play CD Certification In Christmas Competition
16.12.2011 | Source: bravewords.com
The websmaster for NIGHTWISH keyboardist/founder Tuomas Holopainen's official website has issued the following announcement: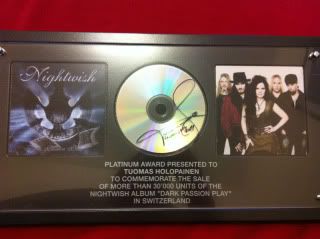 "This year we have teamed up with Tuomas to bring you something special.

Tuomas has given his amating Platinum disc presentaton for album sales of Dark Passion Play in Switzerland. This is the actual disc that belonged to Tuomas and he's giving it away to one lucky person:

1st Prize: Dark Passion Play Platinum disc presentation, and Nightwish art calendar, both signed by Tuomas.

2 runners up: Nightwish art calendar signed by Tuomas.

To enter simply click on the link below, unscramble the anagram and submit. Winners will be chosen from all correct entries. Closing date is Thursday, December 22nd, winners will be announced on December 23rd

Click here to enter the competition.

As previously reported, the new Nightwish album, Imaginaerum, has topped the official Finnish album chart. The album sold 50,000 copies in Finland in its first two days of release.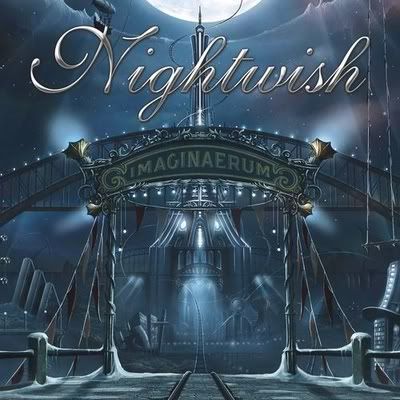 Check out BraveWords.com's review of Imaginaerum at this location.

Nightwish, who issued Imaginaerum in Europe on December 2nd, have renovated and revamped their official website to coincide with the release. Go to Nightwish.com to check it out.

Imaginaerum is the band's first album since 2007's Dark Passion Play, which was then-new singer Anette Olzon's debut. The tracklisting for Imaginaerum is as follows (note that track 12 is broken down into four parts):

'Taikatalvi'
'Storytime'
'Ghost River'
'Slow, Love, Slow'
'I Want My Tears Back'
'Scaretale'
'Arabesque'
'Turn Loose The Mermaids'
'Rest Calm'
'The Crow, The Owl And The Dove'
'Last Ride Of The Day'
'Song Of Myself'
Song 1: 'From A Dusty Bookshelf'
Song 2: 'All That Great Heart Lying Still'
Song 3: 'Piano Black'
Song 4: 'Love'
'Imaginaerum'

Nightwish's 'Storytime' single was released on 11.11.11, and landed at #1 on the Finnish Singles chart. A lyric video, along with the official 'Storytime' clip and a Making Of 'Storytime' video trailer can be viewed below:





Source: bravewords.com
Latest Nightwish news
Most popular from Nightwish
Links
---