PROFANE OMEN Announce Destroy! Tour Dates In Russia
29.12.2011 | Source: bravewords.com
Finnish metallers PROFANE OMEN have issued the following update:
"Howdy and happy holidays everyone! We hope you have well survived the holiday hams, turkeys and woolly socks, and you're ready for what we have to offer for you next year!
We'll start up our year by going to Russia for three shows! Our Russian mini-tour stops at Saint Petersburg (January 13th), Moscow (January 14th and Tver (January 15th)! Harashoo!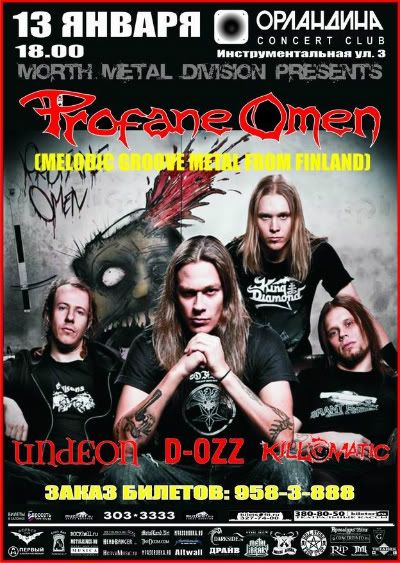 Our January looks pretty much fully booked after this trip too when we hit the The Baltic Sea in the form of Spinefeast. After that our buddies SANCTIMONY from Latvia join us for couple of gigs in Finland (Lahti and Helsinki) and the exciting month will be crowned on January 31st at The Circus in Helsinki, where we warm up the stage for ARCH ENEMY!
Unfortunately, half of the shows we have to play without our low tune maister Antti Seroff who recently underwent a shoulder operation. We're hoping to have him back on the saddle as soon as possible and wish the best of recovery. During Seriff's sick leave the bass will be handled by Pyry Hanski who has been the webmaster of our homesite for few years now and you might have catched him in live action in the ranks of BEFORE THE DAWN.
Check out the whole schedule of our upcoming shows at our
website
.
See ya on the road!!!"
Profane Omen's new album, Destroy!, was released through Spinefarm Records on September 28th. The album landed at #14 on the Finnish album charts. The video for 'Wastehead' is directed by Jussi Hyttinen and Pete Voutilainen, and can be seen below:
Destroy! was produced by Ville Sorvali (MOONSORROW) and Mikko Herranen (RUST) and mastered at Chartmakers. After the departure of bassist Tomppa Saarenke, the band recorded their album with session bassist Antti Seroff.
Destroy! tracklisting:
'A Force to Be Reckoned With'
'Wastehead'
'Predator'
'Feed on the Wasted'
'Escape / Traceless'
'Bad Dreams'
'Acedia'
'Bound to Strive'
'Zombie Riders'
Source: bravewords.com
Latest Profane Omen news
Most popular from Profane Omen
---