NIGHTWISH - Imaginaerum Certified Gold In Germany
09.01.2012 | Source: bravewords.com
Finnish metallers NIGHTWISH have announced that their new album, Imaginaerum, has reached Gold status in Germany, with more than 100,000 sold units.

Bandleader Tuomas Holopainen comments: "Germany never fails us! Only 5 weeks since the release and Imaginaerum goes Gold! Magical, wondrous, imaginative and grateful times we're living. Huge thanks to all the fans and the fellowship of Nuclear Blast!"

Another Gold level was reached in Greece, while the record already made Triple Platinum in their home country, Finland.

And there is even more news to announce from Germany: the band's Once album has reached a Triple Gold level, and the Dark Passion Play album has reached Platinum.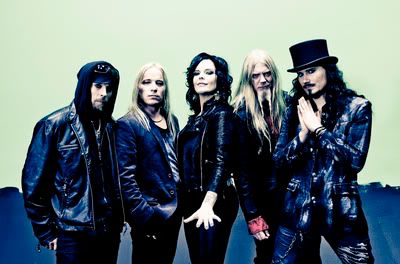 First week chart positions for the Imaginaerum studio album, which recently entered the charts of Nightwish' home country Finland at #1, include:

Finland: #1
Sweden: #3
Switzerland: #3
Germany: #6
Austria: #9
Slovenia: #13
Ireland Indie: #15
Czech: #16
Norway: #17
Poland: #18
Hungary: #21
Holland: #24 (Holland Indie: #12)
Italy: #32
France: #33
Portugal: #33
Belgium Flanders: #44
Spain: #49
Belgium: #51
Denmark: #55
Belgium Wallonia: #64
UK: #69 (UK Rock: #3; UK Indie: #7)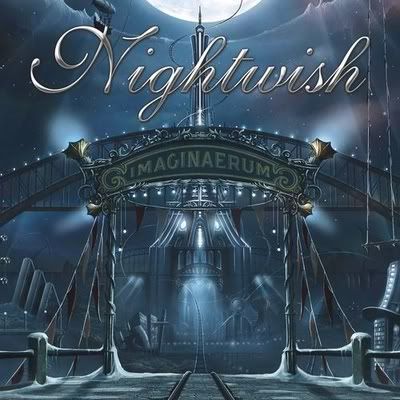 Imaginaerum is the band's first album since 2007's Dark Passion Play, which was then-new singer Anette Olzon's debut. The tracklisting for Imaginaerum is as follows (note that track 12 is broken down into four parts):

'Taikatalvi'
'Storytime'
'Ghost River'
'Slow, Love, Slow'
'I Want My Tears Back'
'Scaretale'
'Arabesque'
'Turn Loose The Mermaids'
'Rest Calm'
'The Crow, The Owl And The Dove'
'Last Ride Of The Day'
'Song Of Myself'
Song 1: 'From A Dusty Bookshelf'
Song 2: 'All That Great Heart Lying Still'
Song 3: 'Piano Black'
Song 4: 'Love'
'Imaginaerum'

Imaginaerum sees a North American release tomorrow, January 10th. Check out BraveWords.com's review of Imaginaerum at this location.

Nightwish, who issued Imaginaerum in Europe on December 2nd, have renovated and revamped their official website to coincide with the release. Go to Nightwish.com to check it out.

Nightwish released the fourth episode of their Imaginaerum online game. Check it out at this location.

Nightwish recently issued the following update: "Last pieces of the exclusive Imaginaerum allover t-shirts are now for sale at the Nightwish shop. This shirt is exclusive to the Nightwish shop and only a very limited stock is left, so act fast! There will NOT be a re-print for this item!"

Go to this location to order.



Oceansouls Of America, a US-based fan-site for Nightwish, has posted the following teaser, neither confirming, nor denying the validity of California Nightwish date in January. While the Finnish act will be in Los Angeles to kick off their world tour with a date at the Gibson Ampitheater, in Universal City (part of the Dinsey complex) on January 21st, the concert in question is shrouded in mystery. Apparently, on October 24th, the Finnish language newspaper Karjalainen quoted the band's management, offering details of a "secret Nightwish gig scheduled somewhere in California in mid-January."

They also hinted to look for a band named RUBBER BAND OF WOLVES playing in the Los Angeles area at the same time. The flyer on the Key Club's website utilizes a dark, pixelated image of the Wishmaster cover art. Check it out below:

Source: bravewords.com
Latest Nightwish news
Most popular from Nightwish
Links
---