ENSIFERUM Confirmed For Norway's Hard Anger Open Air
05.02.2012 | Source: bravewords.com
ENSIFERUM, DISGORGE, SUSPERIA and ENDSTILLE have been confirmed for the first edition of the Hard Anger Open Air Metal Festival. This festival will take place in an unique area called the Hardanger Mountain Plateau in Eidfjord, Norway. The date is set to August 31st - September 1st.
The complete festival line-up: CLAYMORDS, DISGORGE, ENDSTILLE, ENSIFERUM, FJORDFADER, GODDAMN. LEVIATHAN, NEOANDERTALS, 66CRUSHER, SKOGEN, SUSPERIA, THARAPITHA.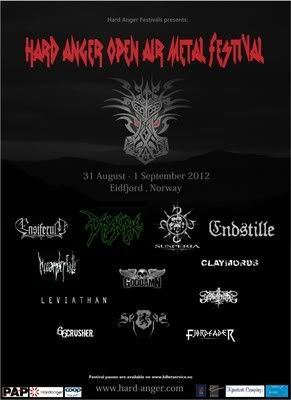 Tickets are available at
this location
.
For more information, visit
Hard-anger.com
.
Source: bravewords.com
Latest Ensiferum news
Most popular from Ensiferum
Links
Tour schedules
28.05.13 / Bogotá, Teatro Las Vegas Nevada / Colombia
30.05.13 / Santiago, Blondie Club / Chile
31.05.13 / Buenos Aires, Teatro Vorterix / Argentina
01.06.13 / Sao Paulo, Carioca Club / Brazil
02.06.13 / Rio de Janeiro, Teatro Odisséia / Brazil
---