MICHAEL MONROE - "2011 Was Good To Us And 2012 Has Started Out Pretty Good"
17.02.2012 | Source: bravewords.com
Legendary Rock Interviews has issued a new interview with MICHAEL MONROE (ex-HANOI ROCKS). An excerpt follows:
Q: You've pretty much defined my version of rock and roll for decades now and I am especially glad to finally be interviewing you following the release of your last album, Sensory Overdrive, which to me was one of the highlights of 2011 hands down. How is 2012 treating the band and what are your plans for touring and promotion going forward?
A: "Thank you so much. 2011 was good to us and 2012 has started out pretty good! The band and I will still be touring in support of Sensory Overdrive while we work on new material for the follow-up album.
Q: I may piss some people off here but I think that the album is easily the best overall album you have made over a career that spans many, many releases. I think it sounds better sonically and has the best set of songs you have ever put together. I think that if someone was a kid just checking out your career they could easily START with this album and go backwards. I enjoy your albums with Hanoi Rocks of course but think that the production on this album is also one of many reasons I like Sensory Overdrive so much. I think this stands next to the CHEAP TRICK debut as one of the major highlights in Jack Douglas's catalog. How was it working with Jack who has such a knack for picking up the energy of a live band and making a great studio album.?
A: "Thanks for sharing your high opinion about Sensory Overdrive. That's a great compliment plus I tend to agree that it's probably the best album of my career. Working with Jack was cool and a fun experience. Plus he had some great Aerosmith and JOHN LENNON stories etc… Jack had a few great arrangement ideas for the songs and he didn't try to change anything just for the sake of changing things, which was very cool of him. Especially since most of the songs were pretty well together already before Jack's involvement. I must add that Petri Majuri's mix also played a key role in the process of making the album sound as good as it does. But yeah, working with Jack was great."
Read the full interview at
this location
.
Late last month, Monroe checked in with the following update:
"Today I was awarded the title of "Vuoden Turkulainen", "The Person Of The Year In The City Of Turku". A million thanks to everyone who voted for me!
Also, I've posted my
New Year's blog
on our site reflecting on last year's events. It certainly was a fabulous year with tons of great highlights. A huge THANK YOU to everyone for making it so."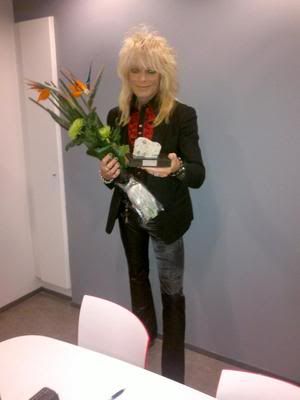 Monroe will play select dates in Finland, in March 2012. Dates include:
March
2 - Rytmikorjaamo - Seinäjoki, Finland
3 - Pakkahuone - Tampere, Finland
9 - Klubi - Turku, Finland
10 - Tavastia - Helsinki, Finland
Source: bravewords.com
Latest Michael Monroe news
Most popular from Michael Monroe
---