FINNTROLL Confirmed For Czech Republic's Brutal Assault Festival
23.02.2012 | Source: bravewords.com

FINNTROLL, SKARHEAD and ROOT are the latest acts confirmed for the Brutal Assault Festival 2012 which is set to take place August 9th-11th in Josefov, Czech Republic.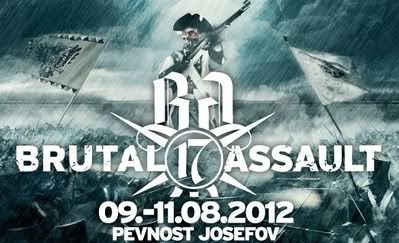 Confirmed acts now include: ABORTED, AHUMADO GRANUJO, ARCTURUS, ARKONA, AT THE GATES, THE BLACK DAHLIA MURDER, CATTLE DECAPITATION, CONVERGE, CORROSION OF CONFORMITY, DARKEST HOUR, DEICIDE, DIMMU BORGIR, FINNTROLL, GENERAL SURGERY, GODFLESH, GORGUTS, HATEBREED, HEATHEN, HEAVEN SHALL BURN, IMMOLATION, IMMORTAL, INCANTATION, INSOMNIUM, KAMPFAR, LOCK UP, MACHINE HEAD, MINISTRY, MOONSPELL, MORGOTH, MUNICIPAL WASTE, NILE, NORTHER, PARADISE LOST, PIG DESTROYER, PROTEST THE HERO, RIVERSIDE, ROOT, SICK OF IT ALL, SIX FEET UNDER, SKARHEAD, SODOM, SÓLSTAFIR, SUICIDE SILENCE, TEXTURES, TOXIC HOLOCAUST, VALLENFYRE, VILDHJARTA, VIRUS, WARBRINGER

More acts will be announced soon.

For more details visit Brutalassault.cz.
Source: bravewords.com
Latest Finntroll news
Most popular from Finntroll
Links
Tour schedules
01.06.13 / Nijmegen, Fortarock / Netherlands
08.06.13 / Tampere, Sauna Open Air / Finland
20.06.13 / Jaworzno, Metalfest Poland / Poland
22.06.13 / Clisson, Hellfest / France
13.07.13 / Ballenstedt, Rock Harz Festival / Germany
---