KORPIKLAANI Ask Fans In Santiago To Assist In Promoting Upcoming Show
29.05.2012 | Source: bravewords.com
Finnish traditional folk metal pioneers KORPIKLAANI have issued the following update:

"Dear Chilean friends,

We found out that the concert on June 6th in Santiago, Chile (Espacio 334) needs more promotion, because hardly anyone knows about it. Can you all please help to spread the news and tell your friends? We would be really thankful for your help. We really love to come to Chile again, and it would be so good to see you all."

"Queridos amigos Chilenos:

Creemos que el concierto del 06 de Junio en Santiago, Chile (Espacio 334) necesita más promoción ya que muy pocos saben de él. ¿pueden comentarlo con sus amigos y ayudarnos a difundirlo? Estaremos muy agradecidos de recibir su ayuda. Nos encanta la idea de volver a Chile, sería genial verlos a todos ustedes una vez más."

Go to this location for updates.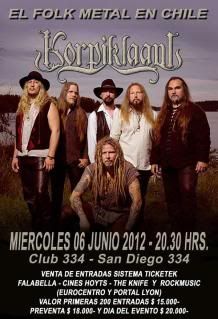 Korpiklaani' tour schedule is now as follows:

June
6 - Espacio 334 - Santiago, Chile
7 - Salón Reducci - Buenos Aires, Argentina
8 - Music Hall - Barretos, Brazil
9 - Clash Club - Sao Paulo, Brazil
10 - Music Hall - Curitiba, Brazil
12 - Beco 203 - Porto Alegre, Brazil
13 - Buzz Live - Montevideo, Uruguay
16 - Copenhell - Copenhagen, Denmark

July
14 - Masters Of Rock - Vizovice, Czech Republic

Aug
5 - Metalcamp - Tolmin, Slovenia
10 - Rock Pod Kamenom - Snina, Slovakia
11 - Schlosshof Festival - Höchstadt An Der Aisch, Germany

Go to this location for ticket links.

As previously reported, Korpiklaani recently revealed further details on their upcoming 8th studio album, Manala, which will be released via Nuclear Blast on August 3rd.

The cover artwork was created by Finnish artist Jan Yrlund. Korpiklaani vocalist Jonne Järvelä states: "On the album cover, our band mascot Vaari represents Väinämöinen, who is one of the main characters in the Finnish national epic Kalevala. As most of the lyrics on Manala are based on the Kalevala, Jan Yrlund decided to draw his inspiration for the cover artwork from the beautiful but yet brutal depiction of the underworld in Finnish mythology."



The limited digipak edition of Manala will come to you with a bonus CD, including the whole album with English lyrics. The tracklisting is as follows:

'Kunnia'
'Tuonelan Tuvilla'
'Rauta'
'Ruuminmultaa'
'Petoeläimen Kuola'
'Synkkä'
'Levan Polkka'
'Husky Sledge'
'Dolorous'
'Uni'
'Metsälle'
'Sumussa Hämärän Aamun'

Bonus CD:

'Honor
'At The Huts Of The Underworld'
'The Steel'
'Soil Of The Corpse'
'Predator's Saliva'
'Dark Side'
'Leva's Polka'
'Husky-Sledge'
'Dolorous'
'Dream'
'Off To The Hunt'

Check out the song 'Metsälle' that offers fans a taste of the new material:


Source: bravewords.com
Latest Korpiklaani news
Most popular from Korpiklaani
Links
Tour schedules
20.05.13 / Leipzig, Wave Gotik Treffen / Germany
01.06.13 / Geiselwind, Beastival / Germany
02.06.13 / Plzen, Metalfest / Czech Republic
22.06.13 / Deberecen, Vekeri Festival / Hungary
23.06.13 / Clisson, Hellfest / France
---