CHILDREN OF BODOM Drummer Jaska Raatikainen Checks In From The Road
21.06.2012 | Source: bravewords.com
CHILDREN OF BODOM Jaska Raatikainen has checked in from the road with the following update:



"In France somewhere...

I do not really remember what has happened the last 12 months. Several flashbacks from around the world. I feel I have spent around one month in total in a plane flying everywhere, six months in a tour bus. I have played with the weirdest drum kits the places I never expected to go on my free time. And now we went there with the band. Been there, done that!!

Actually, I do not know how all these 15 years passed so fast. Maybe I was drunk or maybe I just suppressed all the bad feelings and escaped to some imagined wonderland to survive all the constant touring?!? OR maybe I simply had too fun in the good company that time really flew? Or all these?

I think we just started to plan this 15th Anniversary Euro Tour but to be honest it started the last summer. We realised that it really was COB´s 15th Anniversary this year (since the first album was released). Our label was going to release the Greatest Hits album to celebrate and we were going to release this picture book on our own to celebrate as well. Why the hell not to play some more heavy metal to fans?!!

So, what kind of stage set up, where and when?

Management came up with an idea to combine this Euro leg with festivals and club shows. Brilliant idea! We don´t have to fly every weekend to different festivals and back with all the stuff. Now we can have our own backline everywhere and the most important to have the same set up everywhere.

It is not the smallest production we are mobilising. 'The fucking tourmanager' (as he wants to call himself) / guitar tech, another guitar tech, my drum tech, monitor guy, cocky FOH, lighting guy, merch guy, bus driver or two. Fourteen persons all together. Everybody wanting something all the time. Usually money. And the backline and everything that belongs to that, the car on stage, what have you...

Festival season started in Spain where we played on Sonisphere May 25th. Oh man, we sucked there! Luckily the crowd was good. We had a two month holiday before that and we did not rehearse together enough. Headline show week after that in Cyprus was little better. Again, awesome crowd and good hospitality! Last week we rehearsed quite a lot and did last arrangements to setlist and let the technicians do their jobs: tune up the gear and pack it to the truck. There is quite many things you need on tour. It is better you hire somebody to take care of your gear and let yourself be a full time rock star... except off stage and home.

Thursday we finally flew to Dusseldorf and the tour bus picked us up. We were on our way to Amsterdam. Luckily we parked out of the city and no one was eager to go downtown.

Damn, we had good time on stage yesterday. Audience was so good as always. Melkweg!"

Children Of Bodom's tour schedule is now as follows:

June
19 - Razzmatazz 2 - Barcelona, Spain **
20 - Le Fil - St Etienne, France **
21 - Gods of Metal - Milan, Italy
23 - Earshakerdays - Basel, Switzerland
24 - Graspop Metal Meeting, Dessel, Belgium
26 - Klub Studio - Krakow, Poland **
27 - Volt Festival - Sopron, Hungary
29- Basinfirefest - Spalene Porici, Czech Republic
30 - Rock am Härtsfeldsee - Dischingen, Germany

July
1 - With Full Force - Roitzschjora, Germany
3 - Rockefeller - Oslo, Norway
4 - KB Kulturbolaget - Malmö, Sweden
6-8 - Ruisrock - Turku, Finland

** with CANNIBAL CORPSE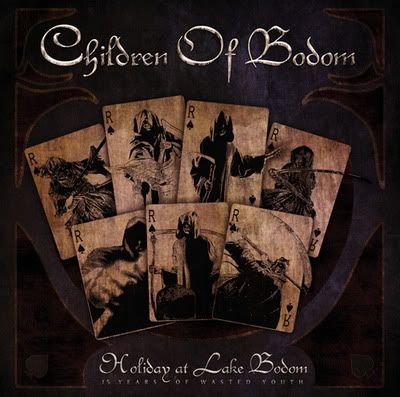 On May 22nd, Children Of Bodom released Holiday At Lake Bodom (15 Years Of Wasted Youth), a very special CD+DVD career retrospective in celebration of the band's 15th Anniversary. The album spotlights specially selected tracks from every one of the band's albums (1997's Something Wild, 1999's Hatebreeder, 2000's Follow The Reaper, 2003's Hate Crew Deathroll, 2005's Are You Dead Yet?, 2008's Blooddrunk and 2011's Relentless Reckless Forever), plus two newly-recorded, and undeniably fun, cover songs ('I'm Shipping Up To Boston' by DROPKICK MURPHYS and 'Jessie's Girl' by RICK SPRINGFIELD), plus detailed liner notes penned by the members of COB themselves.

The CD track listing for Holiday at Lake Bodom (15 Years of Wasted Youth) is as follows:

'Hate Crew Deathroll'
'Shovel Knockout'
'Hate Me'
'Everytime I Die'
'Needled 24/7'
'I'm Shipping Up To Boston' (*previously unreleased)
'Sixpounder'
'Warheart'
'Roundtrip To Hell And Back'
'Trashed, Lost & Strungout'
'Living Dead Beat'
'Deadnight Warrior'
'Blooddrunk'
'Follow The Reaper'
'Are You Dead Yet?'
'Silent Night, Bodom Night'
'Jessie's Girl' (*previously unreleased)
'In Your Face'
'Angels Don't Kill'
'Downfall'

A cover of the Dropkick Murphys song 'I'm Shipping Up To Boston' is available below:



The DVD portion of the package will include "candid touring and backstage footage from around the world", plus the never-before-seen music video for Relentless Reckless Forever's 'Shovel Knockout'.

"15 Years of Wasted Youth is the sound of Children Of Bodom working hard, partying hard, being relentless and stubborn," says the band's superstar guitarist / vocalist Alexi Laiho. "We went through many brick walls to get to where we are, and after seven studio albums, two live albums, non-stop touring, bleeding and breaking a lot of bones, I think we are justified in putting this album out. Let the music speak for itself. You have been warned."
Source: bravewords.com
Latest Children of Bodom news
Most popular from Children of Bodom
Links
Tour schedules
07.06.13 / Espoo, Kivenlahti Rock 2013 / Finland
08.06.13 / Tampere, Sauna Open Air / Finland
09.06.13 / Amneville, Sonisphere / France
15.06.13 / Seinäjoki, Provinssirock / Finland
29.06.13 / San Bernardino, San Manuel Amphitheater / USA
---