STRATOVARIUS - Under Flaming Winter Skies - Live In Tampere DVD Enters Finnish Chart At #1
10.07.2012 | Source: bravewords.com
STRATOVARIUS' new Under Flaming Winter Skies - Live In Tampere DVD has gone straight to #1 on the Finnish music DVD charts.

The news of Jörg Michael's withdrawal in September 2011 was a shock for all Stratovarius fans. To say goodbye to a friend, hero and member who characterized the band's sound for over a decade, the band headed to a five show spanning farewell tour in Finland in November last year.

"The rest of us just has to accept Jörg's decision with a lot of sadness and wish him all the best for the future. But we can also assure that the band will still go on," says the singer Timo Kotipelto.

Before coming back with a brand new studio album in 2013, Stratovarius now release a 2 hour spanning live show filmed and recorded in Tampere, Finland, November 19th 2011. This is one of the very last shows with drummer and key-member Jörg Michael.

Under Flaming Winter Skies - Live In Tampere was released on June 29th.

Hits and classics like 'Under Flaming Skies', 'Speed Of Light' and 'Hunting High And Low' as well as exclusive bonus material (30 min documentary about the band's history, exclusive interviews with each member as well as a special comment from Jörg Michael about the reasons to leave the band) makes it a must-have for every fan and a real collector's item not to miss.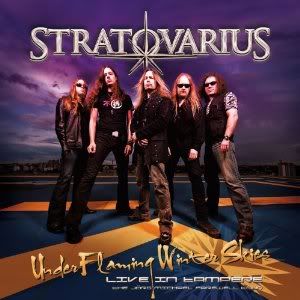 Tracklist CD:

CD1
'Under Flaming Skies'
'I Walk To My Own Song'
'Speed Of Light'
'Kiss Of Judas'
'Deep Unknown'
'Guitar Solo'
'Eagleheart'
'Paradise'
'Visions'
Bass Solo
'Coming Home'

CD2
'Legions Of The Twilight'
'Darkest Hours'
'Burn'
'Behind Blue Eyes'
'Winter Skies'
Keyboard Solo
'Black Diamond'
'Father Time'
'Hunting High And Low'

Tracklist DVD / Blu-ray:
'Intro'
'Under Flaming Skies'
'I Walk To My Own Song'
'Speed Of Light'
'Kiss Of Judas'
'Deep Unknown'
Guitar Solo
'Eagleheart'
'Paradise'
'Visions'
Bass Solo
'Coming Home'
'Legions Of The Twillight'
'Darkest Hours'

Encore I
Jörg Speech
'Burn'
'Behind Blue Eyes'
'Winter Skies'
Keyboard Solo
'Black Diamond'

Encore II
'Father Time'
'Hunting High And Low'

Bonus:
Documentary: Rewinding from the past to 2012
5.1 mix of Elysium (taken from the album Elysium) - only on Blu-Ray

Each of the formats (2CD / DVD / Blu-Ray) includes a different booklet - the same cover and interview with Jörg but different rare pictures.

A clip for 'Black Diamond', from Under Flaming Winter Skies - Live In Tampere DVD can be seen below:


Source: bravewords.com
Latest Stratovarius news
Most popular from Stratovarius
Links
Tour schedules
24.05.13 / Santiago, Blondie / Chile
26.05.13 / Bogotá, Teatro Ecci / Colombia
28.05.13 / Mexico City, Circo Volador / Mexico
15.06.13 / Kaarina, Saaristo Open 2013 / Finland
---