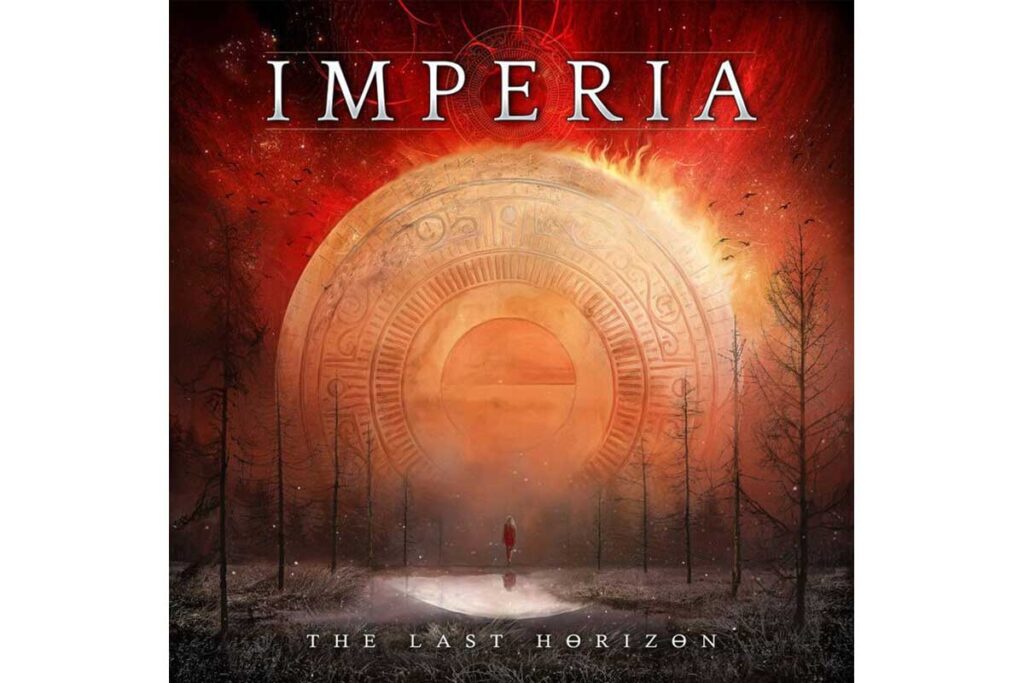 A few years ago when symphonic metal still sounded to many as youthful nonsense, many would never have imagined that it would become one of the most solid genres of all time. Always growing in all directions and overcoming the barriers of the old school, the fuse generated by Therion, Nightwish and Within Temptation would explode in countless bands around the world and would launch a new level of audience directly to the festivals, a fact that contributed to the detachment of the musical stigmas and provided us with a high level of professionalism, otherwise not so vast before. So did the multi-faceted band IMPERIA that handed us this year the sixth full-length "The Last Horizon" through Massacre Records on March 26th.
Merging Finland, Germany, Norway and Belgium and still carrying the remnants of the shadows from the early days of Epica while trying to stick to their own roots IMPERIA knew how to take advantage of the turmoil created by their neighbors before the throne but without going much beyond the already typical standards that leaves us a little far from any impressionism, even so it must be admitted that Helena Iren Michaelsen has a very wide level for the vocals, easily performing both the sweet clean voices and the operative sector without any difficulty, in addition there is more resourcefulness and boldness than that in the style of "Beauty and the Beast", making so many usual duets unnecessary, also mentioning that the band maintains a strong heavy level with balanced musicians in front of all the instrumental, which favors a less boring sound where the metal still ahead, even if slightly disadvantaged, an example of that is in "Dream Away" which even pulls forward voices and guitars while playing back the orchestration. There is a good use of different elements here and we hear "Starlight" start in the sequence mixing everything with folk metal in a very pleasant way.
Something I miss a lot about IMPERIA is just a little more boldness, we found a great band working with a fair production but at the same time we found high moments like "Flower and the Sea" or the floating and enveloping "Where Are You Now", we also found a band that seems to get lost along the way like "To Valhalla I Ride" or "While I Am Still Here" where everything seems to go out of context again and that's what always made me think of the reasons why IMPERIA never took the lead in the genre, even though they were capable of it.
Understand, "The Last Horizon" is far from being a bad album, quite the contrary, there are great moments like "Only a Dream", there are melancholic melodies like in "I Still Remember", there is softness and brightness like in "Dancing" and there is the influence of cultural elements in most of the fourteen tracks on this album, it is the absence of a more direct link between the tracks, the poorly explored themes and the lack of boldness as mentioned earlier that prevent the band from growing more sonorously in many moments and it makes it a little bit tiring, but not bad.
Anyway "The Last Horizon" deserves a good hearing from any genre lover.
Imperia – The Last Horizon review

Our conclusion

IMPERIA is the type of band that has all the qualities and skills to be much more polished, we can only hope that the handcuffs of patterns will break at some point so that finally it will be possible to see the band evolve in splendor, creating their own detached identity that allows a little more freshness to a genre already so explored.
Track listing:
Dream Away
Starlight
To Valhalla I Ride
Flower and the Sea
Blindfolded
While I Am Still Here
Only a Dream
Where Are You Now
I Still Remember
Dancing
My Other Half
One Day
I Send You My Love
Let Down (Piano Version)
Line-up:
Helena Iren Michaelsen – vocals
Jan Örkki Yrlund – guitars
Gerry Verstreken – bass
Merijn Mol – drums
Related links
Website: http://imperiaband.com/
Facebook: https://www.facebook.com/imperiaband/
Twitter: https://twitter.com/imperiaband
Instagram: https://www.instagram.com/imperiaband/
Spotify: https://open.spotify.com/album/4ljegkDBuw1HdcozbxDOBn
Label link: https://massacre-records.com/
More details
Produced by Jan Yrlund and Oliver Philipps.
Mixed and mastered by Jacob Hansen at Jacob Hansen Studios.
Cover artwork by Jan Yrlund/Darkgrove Design.